Main content starts here, tab to start navigating
Menus
Slide 1 of 4
Slide 2 of 4
Slide 3 of 4
Slide 4 of 4
Set Menu
Served with miso soup, potato croquette, cabbage salad, and seasonal side dishes
SOMA Gozen Set | 29

Grilled beef, chef's choice 4 piece sashimi

Teriyaki Salmon | 22

House made teriyaki sauce

Teriyaki Chicken | 20

House made teriyaki sauce

Hire Katsu | 22

Pork tenderloin katsu with curry

Tempura Udon | 19

Hokke & Oden | 32 *New Seasonal

Grilled Ataka mackerel with grated radish, assorted fish cake

Katsu Don & Oden | 34 *New Seasonal

Pork tenderloin katsu topped with egg, scallion, onion, and sweet and savory sauce over rice.

Sukiyaki Don & Oden | 34 *New Seasonal

Thinly sliced beef, soy sauce based sweet sukiyaki sauce over rice, topped with uzura and benishoga
Sushi Set Menu
Served with miso soup, potato croquette, cabbage salad, and seasonal side dishes
Sashimi and tempura | 26

6 pieces sashimi, shrimp, and vegetable tempura

Nigiri and Maki | 28

Chef's choice 5 piece nigiri, 4 piece maki

Kaisen don | 24

Chef's choice sashimi over rice

Three maki set | 24

Choice of: Negitoro, spicy tuna, spicy salmon, california, unagi, avocado, cucumber
Noodles
Creamy Mentaiko Pasta | 22

Fresh squid ink pasta, mentaiko

+ add set | 5

Spicy Chashu Udon | 22 *New Seasonal

Spicy dashi soup topped with chashu, egg, and scalion

+ add set | 5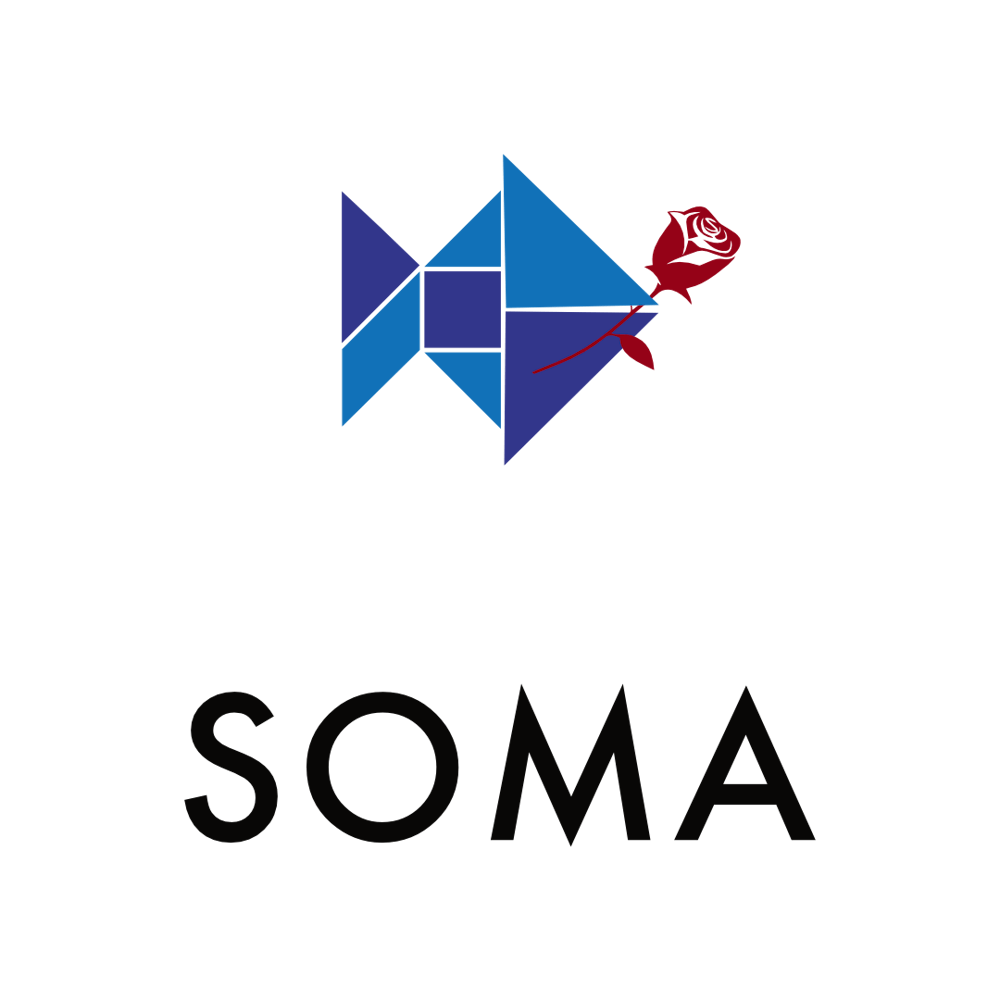 Friday, February 10 - Tuesday, February 14
Celebrate Valentine's day with Japanese specialties! SOMA will be offering 3 different course menus specially curated for this day. Add sparkling sake and champagne pairing to make your experience extra memorable.
Counter Omakase
Counter Omakase is available at two seating times at 6:00 PM and 8:00 PM. Reservations are required for this experience as seating is extremely limited. When making reservations, please select "Omakase Counter" as your seat selection.
18 Course Counter Omakase | 180

Celebrate your love with an exclusively created menu by Chef Yoji. The special Valentine's weekend Counter Omakase menu includes more premium fish and ingredients.
Table Omakase
Enjoy this specially curated menu at your table with your loved one.
Table Omakase | 120

Tuna Sashimi

Kanpachi Carpaccio

Salmon Crispy Rice

Chef's Selection of Sashimi

Chef's Selection of Nigri

Soup

Dessert
Prix Fixe Menu
The 5-course prix fixe menu is specially created for this day by our chef.
Prix Fixe Menu | 120

Wagyu Menchi

Octopus Ceviche

Marinated Mushroom Salad

Lobster Ravioli with White Truffles

Dessert
Counter Omakase
Counter Omakase is available at two seating times at 6:00 PM and 8:00 PM. Reservations are required for this experience as seating is extremely limited. When making reservations, please select "Omakase Counter" as your seat selection.

18 Course Omakase | 150

Chef's selection of 3 appetizers, 12 pieces of specialty nigiri, chef's choice soup, handroll, and dessert
Warm Appetizers
Edamame | 6

Sea salt

Roasted Brussels sprouts | 13

Fresh parmesan cheese, yuzu

Agadashi tofu | 10

Light dashi broth, bonito flakes, spicy daikon

Shishito peppers | 12

Miso glaze, bonito flakes

Steamed ika shumai | 12

Squid and shrimp, Peas, microgreens

Spicy popcorn shrimp | 14

Creamy spicy mayo, scallion

Tempura Moriawase | 22

Shrimp, mushroom, kabocha,

Grilled octopus | 25

Shiso yam purée, beet chipotle sauce

Miso soup | 4

Tofu, wakame, scallion
Cold Appetizers
Tuna tataki | 17

Scallion, shiso, kaiware daikon, truffle oil

Octopus carpaccio | 18

Lightly pickled cucumber, wakame

Salmon tartare | 15

Avocado, cream cheese sauce, yuzu, crispy rice chips

Crispy Rice | 15

Choice of spicy tuna or spicy salmon
Salads
Spinach Ohitashi | 10

Light dashi soy broth, bonito flakes

Kale Salad | 13

Baby kale, cucumber, avocado, crispy shallot

Scallop Salad | 18

Watercress, fennel, pickled jalapeno, daikon sauce
Entrées
Miso Black Cod | 28

Miso sauce, grilled baby corn, grilled baby squash

Brick-Pressed Chicken | 22

Vodka sauce, kabocha puree, asparagus, carrots

Miso Yogurt Salmon | 24

Spinach, shishito peppers

Ribeye Steak | 34

Wasabi sauce, kabocha puree, seasonal vegetables

Don Katsu | 21

Cabbage salad, rice

Chashu | 18

Soy braised pork belly, soft boiled egg, spinach

Creamy Mentaiko Pasta | 22

Fresh squid ink pasta, mentaiko

Udon | 18

Assorted tempura, scallion
Specialty Flights
Sashimi Flight | 50

Chef's choice 12 piece sashimi

竹 (Take) | 55

Chef's choice 8 piece premium nigiri and 1 maki

梅 (Ume) | 40

Chef's choice 8 piece nigiri and 1 maki
Nigiri & Sashimi A La Carte
Akami | 6

Lean bluefin tuna

Chu Toro | MP

Medium fatty bluefin tuna

O toro | MP

Extra fatty bluefin tuna belly

Salmon | 6

Yaki Salmon | 7

Seared salmon

Ikura | 9

Salmon roe

Saba | 8

Mackerel

Kohada | 9

Gizzard shad

Kanpachi | 8

Baby yellowtail

Uni | MP

Sea urchin

Hirame (live) | 8

Fluke

Madai | 8

Japanese sea bream

Aji | 8

Japanese horse mackerel

Botan Ebi | MP

Spot prawn

Ebi | 4

Shrimp

Ika | 6

Squid

Unagi | 7

Grilled freshwater eel

Anago | MP

Saltwater eel

Masago | 5

Smelt roe

Tamago | 4

Japanese egg omelet
Maki
Tekka | 11

Lean bluefin tuna

Spicy tuna | 10

Lean tuna tartare

Negitoro 7

Fatty bluefin tuna tartare

Salmon | 7

Spicy salmon | 9

Salmon tartare

Kanpachi negi | 9

Japanese yellowtail tartare

Shrimp Tempura | 10

Tiger shrimp tempura

Spicy Hotate | 11

Scallop tartare

Unagi | 13

Freshwater eel

California | 8

Crab meat, avocado, masago

Salmon Skin | 10

Natto | 6

Fermented soybean

Kanpyo | 6

Dried squash

Oshinko | 6

Pickled daikon radish

Avocado | 5

Cucumber | 5

Ika Ume Shiso | 12

Pickled plum and shiso

Gobo | 6

Burdock root

Futomaki | 30

Chef's choice
SOMA x Ann Tremet Cake
We partnered with a special and one of a kind pastry chef to bring our guests the tastiest desserts

Lychee Apricot | 12

Lychee mousse, apricot jam, vanilla sponge, and lychee sable cookie bottom

Drenched in Chocolate | 12

Rich dark chocolate with raspberry coulis, chocolate sponge, chocolate feuilletine crunch

Japanese Double Cheesecake | 12

Cream cheese mousse with signature Japanese cotton cheesecake

Black Sesame | 12

Black sesame mousse, fresh raspberry jam, and matcha sponge cake
Junmai
Tenbu

Peach and citrus flavors with a touch of earth tones on the finish

Bottle (300 mL) | 16

Harada 80

Smooth, subtle touch of marshmallow and coconut

Glass | 12

Bottle | 56

Dan

Rounded flavor with notes of cherry blossom and acacia

Bottle | 66

Shichida

Crisp and refreshing

Glass | 14

Bottle | 72
Ginjo
Mizu No Shirabe

Gentle, delicate with hints of peaches, grapes and persimmons

Glass | 9

Bottle | 50
Junmai Ginjo
Kuroushi Omachi

Extremely well balanced sake is supremely rich and very full-bodied

Bottle (180 mL) | 14

Kikusui

Semi-dry, fruity aroma with light dry finish

Bottle | 58

Goriki Muroka Nama

Refreshing, flavors of pineapple and mango

Bottle | 62

Fukuju

Velvety with notes of tropical fruit, crisp finish

Bottle | 72

Shin

Aroma of pineapples, mellow sweetness of apricots

Bottle | 84
Junmai Daiginjo
Hakkaisan

Clean, gentle rice flavor and a dash of dryness

Bottle (300 mL) | 28

Hakkaisan Snow Aged 3 Years

Smooth, Rounded layered flavors, with a long finish

Bottle (300 mL) | 37

Tomoju

Medium dry, fruity tart flavor, refreshing finish

Bottle (375 mL) | 39

Kubota

Semi-dry, flavors of pear and melon, smooth crisp finish

Bottle | 62

Ken

Clean and bold, hints of minerals and ginger

Bottle | 148
Sparkling Sake
Dassai 45

Grape, pear, apple, orange, and whipping cream flavors that drink juicy and soft

Bottle (300 mL) | 20

Hakkaisan Awa

Bright and refreshing with elegant sweetness

Bottle (300 mL) | 54
Nigori
Dassai 45

Very creamy mouth feel yet semi-dry, aromatic bright flavor profile

Bottle (300 mL) | 24

Snowman

Soft peach and mango aromas, clean and sharp finish

Bottle | 56
Plum Sake
Kaori Umeshu

Infused with organic plums, slightly acidic and sweet

Glass | 9
Rose
Les Vignobles Gueissard

Provence, France

Glass | 13

Bottle | 44
White
Bogle Vineyards/ Chardonnay

Clarksburg, California

Glass | 11

Bottle | 35

Pine Ridge Vineyards/ Chenin Blanc & Viognier Blend

California, US

Bottle | 44

Tiefenbrunner/ Pinot Grigio

Trentino-Alto Adige, Italy

Glass | 14

Bottle | 50

Villa Maria/ Sauvignon Blanc

Marlborough, New Zealand

Bottle | 56

Nautilus Estate/ Sauvignon Blanc

Marlborough, New Zealand

Bottle | 56
Red
Bogle Vineyards/ Cabernet Sauvignon

Clarksburg, California

Glass | 11

Bottle | 35

Thistle & Thorn/ Cabernet Sauvignon

Napa Valley, California

Bottle | 55

Adelsheim Vineyard/ Pinot Noir

Oregon, US

Bottle | 60
Bottled Beer
Echigo Koshihikari | 10

Japanese rice lager with clean, crisp finish

Rydeen Pilsner | 13

Crisp and clear, the flavor is made up of both malt and the fresh hop's bitterness

Kyoto Matcha IPA | 13

Full body Japanese style IPA with citrus notes and matcha flavor

Rydeen IPA | 13

Floral and citric aromatics with a crisp and dry finish
Draft Beer
Sapporo | 8

Orion | 8

Suntory The Premium Malt | 12